Up to Snuff:
A SnacthDigital Journey that Reduced our Partners's Operational Expenses by
35%
Expand your test-covered area, run spot on automated software testing operations, and increase the reliability and quality of your up and coming software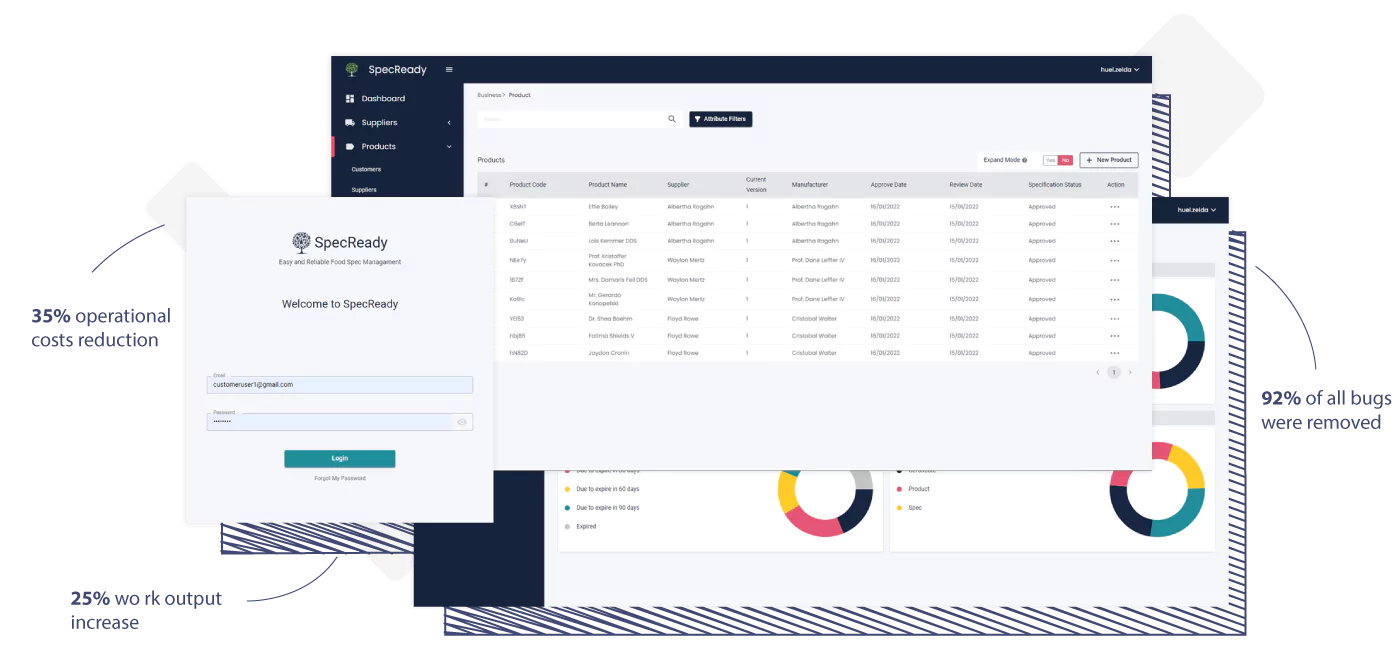 SpecReady's
Challenge
SpecReady had issues with flow of data between manufacturers, their suppliers and other parties involved in their operation.
SnatchDigital's
Solution
We defined a clear plan and subsequently designed and developed a product that cut all of Playvox's operational supply chain management costs in massive proportions.
In Short
Summary
SnatchDigital's product resulted in:
Details:
Learn More About SpecReady
Our new partner, SpecReady is a fast growing startup in the food supply management ecosystem. While their bright ideas had a great future, their operation was overtly complex, with many underlying issues in data structure. It was at this juncture that they sought a partnership with SnatchDigital.
How it all Started
The core of the issue was caused by a lack of specific data-oriented platform as well as efficient process flow between manufacturers, suppliers and regulators.To remedy this, SpecReady was looking for a comprehensive and all-out solution to solve the problem for good.
First and most importantly, the prospect of work and product was not organised and seemed vague even to the client. As a strategic partner, Snatchdigital got involved from the very beginning of SpecReady's product development process to help overcome the issue.
The Approach
We organised several meetings with all the stakeholders and highlighted how to best implement an efficient and organised flow of data between manufacturers, suppliers and other parties.
Simultaneously, our production team began focusing on analysing target markets, investigating SpecReady's pre-existing products, and coming up with a tailored product strategy of our own.
Employing discovery techniques like deep interviews and focus groups, we determined the main pain points and users needs, how SpecReady and their customers operate without our product, and finally we categorised all the resulting data.
The Result
Our team rigorously researched and documented the product and its qualities by making rapid prototypes which helped identify initial solutions before moving on to create the final product.
By going on a tight design sprint, we found the most needed key solutions and worked heads on to come up with an MVP to showcase the core value of the new product.
During the first design phase, our team collaborated with SpecReady project stakeholders to create a mockup of the eventual product based on the MVP prototype. The design was built with the demands of the target audience in mind, while also complementing the product's primary functionalities. We took these into account and also solicited input from stakeholders.
After we finished the design, we created a product roadmap that divided the MVP into its most critical Epics, such as product specifications, ingredients, and dashboards. We began refining these epics to be aligned with our communication and cross-functional teams.
The priorities and milestones at hand were communicated effectively across the board to increase clarity and alignment. Our next goal was to create high-quality software by utilising the most up-to-date and efficient software development tools.
Right from the start, our professionals employed Test-Driven Development and automated testing to maximise efficiency. This aided us in increasing our delivery velocity and time to market and ultimately resulted in a 92% reduction in bugs.
SnatchDigital's crowning achievement in this project was the development of a software that helped SpecReady's clients increase work completion rates by up to 25%. The product also lowered project completion time by 76% and all operational costs by 35%.
In the end, by our continuous efforts to measure different metrics we assure to successfully alleviate the users' pain points
Drive Your Vision
to Completion
Talk about your problem with an Expert
Leave us a short description of what you want and we will get back to you as soon as possible.