How SnatchDigital reduced 86% of manual test effort and cost for Playvox?
Expand your test-covered area, run spot on automated software testing operations, and increase the reliability and quality of your up and coming software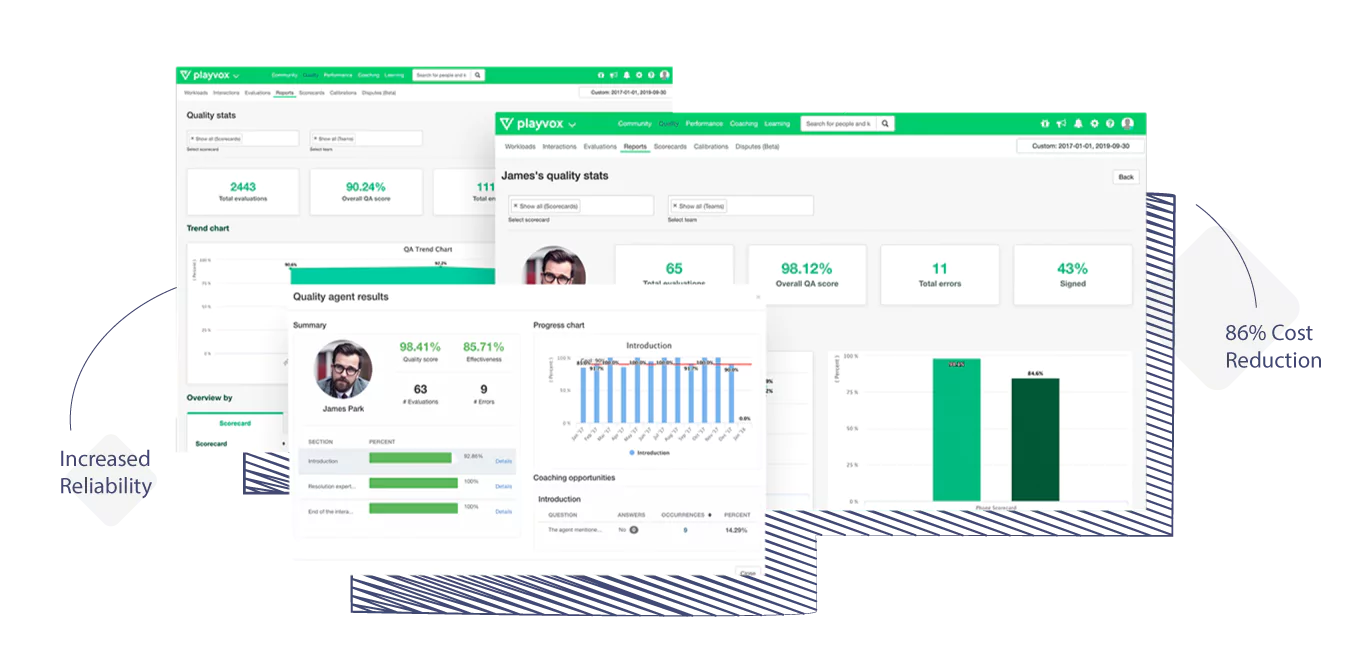 Playvox's
Challenge
On this journey, the main challenge was to optimize a tightly coupled legacy code to adapt the scalable testing automation process to gain 95% code coverage.
SnatchDigital's
Solution
70% percent of the bugs were immediately removed by SnatchDigital's solution of moving to an updated, customized and automated testing environment. All while keeping up with a tight schedule.
In Short
Summary
SnatchDigital's state of the art performance resulted in:
Details:
Learn More About Playvox
Our partners at Playvox equip modern businesses and BPOs with the most comprehensive, inclusive, and insightful agent optimization suite of quality assurance, Performance Management, Coaching, and Learning. Through the years, their automated and centralized solutions have provided a steady line of trustworthy integration services for some of the biggest names in the industry.
Visit Playvox's Website
How it all Started
When they came to us, it began a longstanding mutual work relationship that caused growth for both parties. Our work for Playvox had a progressive impact on the efficiency of Playvox's quality engineering, at the same it gained invaluable experience for SnatchDigital.
Playvox's operation was smartly designed. Still underlying issues with testing coverage and quality remained. Right away, we began a comprehensive effort to diagnose and eliminate the issues at hand.
The Approach
After a diligent investigation complemented by sharp-witted briefing by Playvox's staff, the issue was determined to be caused by a clunky string of coding that caused compatibility and testing coverage issues.
From that moment, our staff was divided in two parts, working around the clock to tackle and fix the issue to meet our new partner's deadlines.This tight schedule, coupled by other underlying issues required extra-mile delivery, a hallmark of SnatchDigital's work ethic.
Several times, the dynamic nature of the project and new updates in requirements resulted in major setbacks that needed starting over. However, SnatchDigital was aware of the challenges and obstacles of partnering with a company of Playvox's stature.
We managed to utilize our scalable team to overcome the obstacles using agile methodology. Often this proves difficult for large companies, however scalability has always been a natural trait of SnatchDigital and its teams.
The Result
The final product had 70% of its bugs reduced and became an overhauled and well-oiled machine. This had a butterfly effect through cutting release times by 50%, and manifested itself in the form of a noticeable spike in growth velocity. This change meant the amount of man-days each release needed went from 100 to 15. All costs related to quality engineering of high risk functions were cut by 90%.
We ensured to maintain quality in the face of the demanding timeframe. Our team ran each test up to 20 times to ensure its compatibility. All tests were fully documented and were given to our partners in the form of standard reports along with additional customized demos and tailored reports.
At the same time, we designed and developed a new personalized plugin for their Cypress platform. To achieve these feats, our flexible team employed different software development methodologies, including XP, Scrum, etc.
In the end, this hyperintense partnership resulted in SnatchDigital maintaining its relationship with Playvox in a consultancy capacity, even in fields outside of project scope. Playvox's due diligence in realizing the need for a tech overhaul and their actions toward this goal, has ensured their place among the top 10 of their industry for the foreseeable future.
Drive Your Vision
to Completion
Talk about your problem with an Expert
Leave us a short description of what you want and we will get back to you as soon as possible.